Study for Silence is a performance that blends experimental music creation in the piano with performance procedures. It is based in Fluxus instructions performance procedures, endurance performance researches of the 1970's and 1980's, the cagean concept casual music and the concept of environment and live act in Allan Kaprow.
Therefore, instead of a free improvisation in the piano, it consists of a performance in which the artist must strictly follow 
instructions. These instructions include deep emotional stress actions and music structural restrictions while playing.
Instructions ::
Prelude
1. Remain silent for two days without communicating with anyone.
2. During this period, try to remember traumatic memories in order to revive these states.
Scene
1. Remain silent.
2. Enter in the stage and walk very slowly toward the piano.
3. During this walk, try to silence your thoughts
4. When you arrive at the piano, if you have not been able to silence your thoughts, remain silent and motionless.
Piano
1. Must not create rhythmic, melodic and / or harmonic patterns.
2. In case you formulate any of these patterns, you must deconstruct the sound flow.
3. Must stop the sound flow when it is no longer possible to play without playing any pattern.
4. Remain silent.
STUDY FOR SILENCE / ESTUDO PARA O SILENCIO @ EINSTEIN KULTUR THEATRE, MUNICH, GERMANY 2016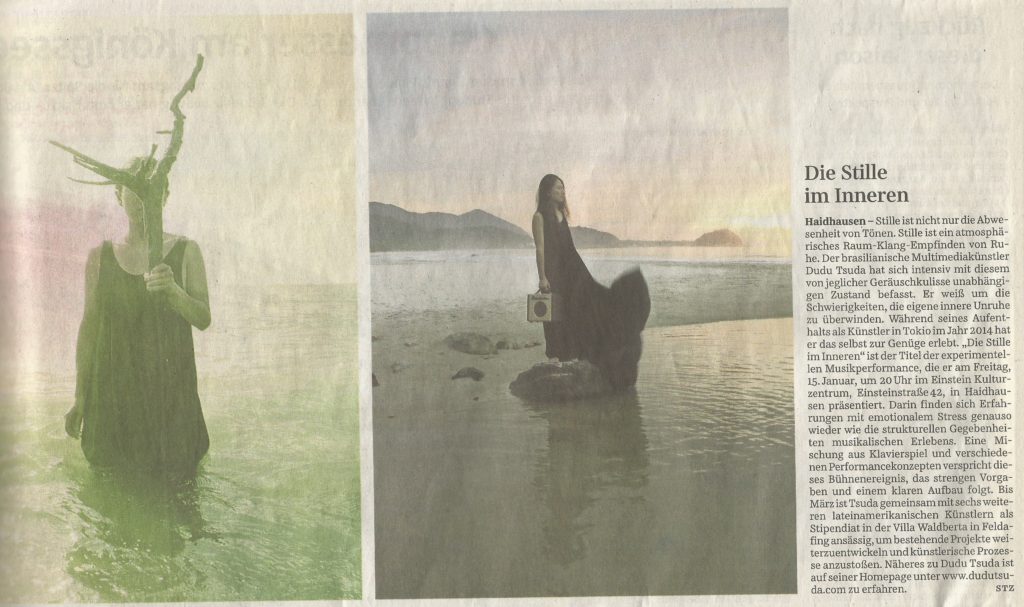 STUDY FOR SILENCE / ESTUDO PARA O SILENCIO @ FESTIVAL RESONANCIAS, MANIZALES, COLOMBIA 2015
Festival Internacional Resonancias Deriva del Agua
STUDY FOR SILENCE / ESTUDO PARA O SILENCIO @ FESTIVAL HAPPENINGS, RIO DE JANEIRO, BRAZIL 2015